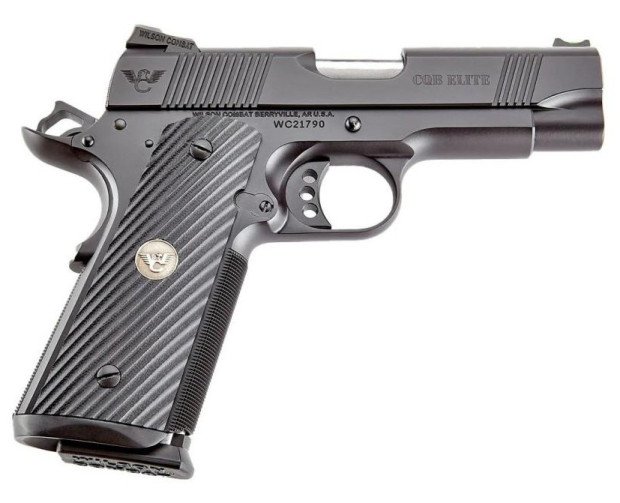 In the world of high-end firearms, Wilson Combat's CQB Elite Professional stands as a testament to what careful design and precision engineering can achieve. With this model, Wilson Combat, known for their uncompromising standards and commitment to quality, has effectively set the benchmark for elite-grade weapons.
The CQB Elite Professional showcases a remarkable blend of top-notch materials and superior build quality. The use of forged carbon steel for the frame and slide, along with the company's famed Armor-Tuff finish, offers enhanced durability and superior resistance to corrosion. The manufacturing process, marked by meticulous attention to detail and stringent quality control, ensures the seamless integration of all components, contributing to an exceptional overall build worthy of its "Elite" status.
The firearm's visual appeal is undeniable, with a sleek, streamlined design that exudes sophistication and power. The G10 grips, individually fitted for each weapon, offer not only superior handling but also significantly enhance the aesthetic allure of the gun.
When it comes to functionality, the CQB Elite Professional delivers an unparalleled performance. The trigger pull is remarkably smooth and consistent, making every shot a precise one. The gun features a 4.25-inch barrel, an optimal length for balance and maneuverability, particularly in close-quarter battle scenarios. The advanced design, including a fluted cone barrel and closed front end, enables commendable recoil management, allowing for accurate rapid-fire.
The CQB Elite Professional outshines its regular Professional series counterparts with an array of high-end features. The inclusion of an integral light-rail machined into the frame provides tactical utility. The flared magazine well facilitates swift reloads, and the Countersunk Slide Stop post ensures a no-snag draw. These features, meticulously incorporated, provide a tactical advantage in high-stakes situations.
One of the defining features of the CQB Elite Professional is its 4" tapered cone barrel and shortened slide. This intelligent design enhances concealability while maintaining the handling characteristics of a full-size pistol, striking an optimal balance. In addition, the absence of the barrel bushing reduces a potential failure point, thus increasing the weapon's reliability during intensive use.
The CQB Elite Professional, true to Wilson Combat's reputation, demonstrates impressive reliability. Field reports and user testimonials highlight its impeccable performance, even after thousands of rounds fired with minimal maintenance.
The superior quality and performance of the CQB Elite Professional come with a premium price tag. It represents a substantial investment. However, for professionals demanding top-tier performance and civilians desiring a luxury firearm, it is worth every cent.
The Wilson Combat CQB Elite Professional is a masterclass in precision engineering and attention to detail. Its unparalleled quality, reliability, performance, and elegant design epitomize what an 'Elite' firearm should be. A perfect fusion of a luxury item and a high-performance tool, it stands as a testament to Wilson Combat's unwavering dedication to producing the finest firearms in the industry.