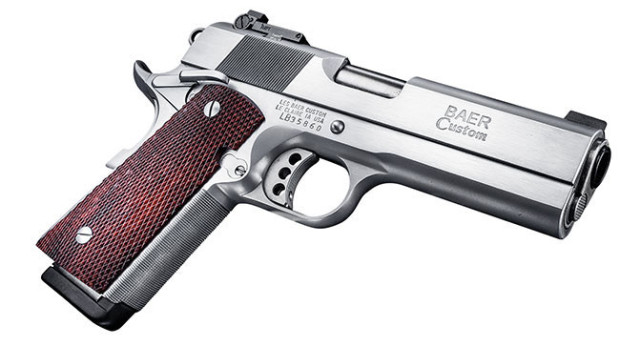 First appearing in the December 2015 issue of Guns & Ammo magazine, the Les Baer 1911 GT Monolith Stinger Chrome Finish 9mm 1911 pistol stands as an epitome of craftsmanship and aesthetic excellence. As part of the revered Monolith Stinger family, this compact 1911 carry gun encapsulates what can be accomplished when superior performance and artistic design are seamlessly married.

Borrowing from the power and elegance of high-end vehicles, the GT Monolith Stinger Chrome Finish model distinguishes itself from its kin—the Blued and Dupont S-finished Monolith Stingers. Adorned with a sleek chrome finish, it sets a new standard for sophistication and beauty in firearm aesthetics.
The term "Monolith" pertains to the innovative design of the firearm's frame. The frame is extended to encompass the slide, creating a monolithic structure. This design choice yields practical benefits, such as improved weight distribution and better recoil management. The added mass in the frame aids balance and minimizes muzzle flip, enabling faster and more accurate follow-up shots. In addition, the monolithic frame design increases the sight radius, enhancing the shooter's accuracy.
The "Stinger" refers to the firearm's streamlined design, which pairs an officer frame with a commander slide. The officer frame provides the reliable performance of a standard 1911 in a reduced, compact package—making it a perfect choice for concealed carry. The Stinger design features a significant reduction in the firearm's overall weight and size, without sacrificing reliability and performance. These features are key considerations for those who carry firearms daily.
Honoring the Les Baer tradition, the 1911 GT Monolith Stinger Chrome Finish is a masterpiece of precision and craftsmanship. Each component, mechanism, and contour is meticulously crafted, guaranteeing smooth operation and an unrivaled shooting experience. With high-performance mechanics housed in a striking aesthetic shell, this firearm transcends the realm of the practical to become a visually stunning masterpiece.
In summary, the Les Baer 1911 GT Monolith Stinger Chrome Finish 9mm 1911 pistol exemplifies the harmonious blend of art and functionality. By balancing striking aesthetics with superior performance mechanics, Les Baer has crafted a firearm that not only delivers exceptional performance but also radiates the elegance and sophistication of a well-crafted piece of art. It stands as a testament to the extraordinary heights achievable when form and function are fused together seamlessly.