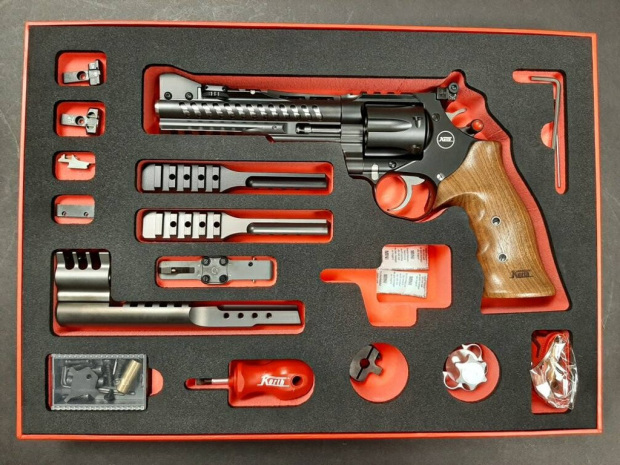 Step into the future of handguns with the SuperSport Revolver GTS, where every aspect has been perfected to ensure unparalleled accuracy, adaptability, and shooter satisfaction. By marrying cutting-edge technology with invaluable feedback from dedicated customers and professional shooters, this revolver stands out as a testament to what's possible when passion meets precision.

Unrivaled Features for the Sharpshooter in You
The Korth Super Sport GTS is not just another revolver. It's a marvel of engineering, designed with discerning shooters in mind:
Cold-hammered Precision Barrel: For consistent accuracy shot after shot.
Integrated Picatinny Rails: Situated on the frame and bottom of barrel housing for a range of accessory attachments, including the option to mount red dot sights to the rear.
Custom Double Action Polished Trigger: Enhanced for responsiveness, it also allows for single action.
Adjustable Sights: Front and rear sights are fully adjustable in width, height, and windage, catering to each shooter's unique preferences.
Ventilated Barrel Housing: Designed for rapid cooling during high firing rates, ensuring longevity and performance.
Custom Turkish Walnut Grips: A blend of aesthetics and ergonomics, ensuring comfort in every grip.
Wide Cylinder Release: Ambidextrous-friendly and positioned for ease of access.
Interchangeable Sights: The GTS offers a rotatable front sight with three width options and removable front sight plates.
Built with Feedback, Crafted for Performance
The SuperSport Revolver GTS has been meticulously shaped, influenced by insights from our trusted community. The triple-lock cylinder promises stability, precision, and enhanced locking action. Furthermore, the multi-position sight, integrated seamlessly into the barrel housing, showcases our commitment to detail, with every feature aimed at elevating the shooter's experience.
Technical Specifications:
Caliber: .357 Magnum / 6 Shot
Weight: 2.91 lb
Dimensions:

Height: 6.3 inch
Total Length: 11.6 inch
Width: 1.57 inch
Barrel Length: 6 inch
Performance Kit – Pushing Boundaries Further
Each SuperSport Revolver GTS is accompanied by an inclusive Performance Kit that comes with:
Different barrel weights (0.45 lbs and 0.16 lbs) for customizable balance.
Compensator set weighing 0.87 lbs.
Additional multi-position sights.
Front sights: Ranging from gold inlays to fiber optics.
Rear sights: Including target and fiber optic variants.
Additional front sight plates (DSB).
A toolkit and speedloader for calibers .357/.38.
The SuperSport Revolver GTS is more than just a firearm—it's a symbol of unparalleled craftsmanship, performance, and precision. Inspired by feedback, and built for accuracy, it sets a new benchmark in handgun excellence. Whether you're a competitive shooter, enthusiast, or someone seeking the very best in firearm technology, the GTS is designed to not just meet, but exceed expectations.