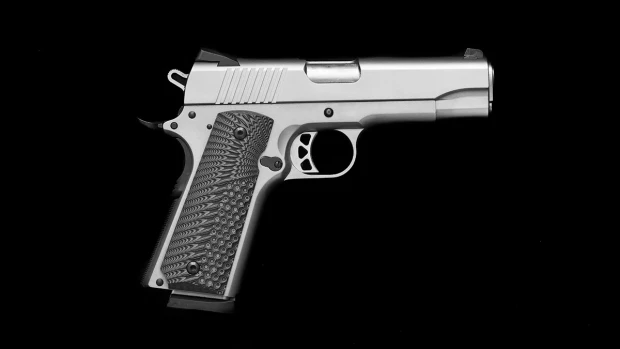 Dive into the remarkable world of the 1911 – a classic firearm whose beauty is as stunning as its track record of reliability and precision for over a century. Yes, you might be thinking, it appears a tad bulky. But, trust me, with some strategic foresight, it could be the perfect companion for your everyday carry (EDC).
One of the compelling features of the 1911 is its slender build. Thanks to the ingenious single-stack magazine design, it boasts a less chunky grip compared to its double-stack counterparts. This smart design makes it a master of disguise – an absolute boon for those discreet moments. Not to mention, the 1911 doesn't carry the hefty weight of some other metal-framed cousins, an essential consideration if you'll be bearing it throughout the day.

Now let's talk about the 1911's trigger. Renowned for its sharp, smooth pull, the trigger can be a game-changer during high-pressure scenarios when accuracy is non-negotiable.

But let's not gloss over the challenges. The 1911 is larger than average, and even with its slim profile, it might pose a bit of a challenge for optimal concealment. Thoughtful selection of your holster and outfit will be necessary to ensure it remains unseen.

Also, ammunition capacity might give you pause. The 1911 generally carries fewer rounds than some modern counterparts. While the .45 ACP round offers a powerful punch, it's typically limited to 7-8 shots, which could be a potential dealbreaker based on your needs.

If you're enticed by the prospect of adopting a 1911 for concealed carry, there are key factors to consider. Size, undoubtedly, is a priority. A compact or subcompact 1911 will prove far more concealable than a full-size model. Shorter barrel and grip models should top your list for manageability.

Equally important are the sights. Many 1911s come with standard sights, but for concealed carry, you might prefer a low-profile, user-friendly option. The true brilliance of the 1911, however, lies in its trigger: a sharp, smooth pull with a short reset can make a world of difference.

Regarding holsters, seek out the Goldilocks of them all - just right for your firearm. The ideal holster will secure your gun, shield it, and prevent accidental discharge. It must be tailored for your 1911 model and fit like a second skin. Comfort is key; it shouldn't obstruct your movement.

And let's not underestimate a solid belt. It should be robust enough to support your firearm while maintaining comfort. Belts with reinforced leather or synthetic materials distribute weight evenly, enhancing your comfort.

So, if you're scouting for a superior 1911 for concealed carry, you'll find an array of superb options. The 1911 is synonymous with quality, performance, and reliability. Following are just a few examples:
1. Wilson Combat CQB Compact: Elegance meets functionality in this high-tier 1911-style pistol, tailor-made for concealed carry. The CQB Compact's 4-inch barrel chambered in .45 ACP, complemented by its lightweight aluminum frame, speaks of refined engineering. Coupled with its crisp trigger and pinpoint accuracy, this pistol stands out in a crowd. The added night sights and a buffet of custom options elevate its allure.

2. Ed Brown Kobra Carry: If you're seeking an amalgamation of compactness and lightweight for concealed carry, the Ed Brown Kobra Carry is your answer. This sleek firearm features superior components like a match-grade barrel and adjustable night sights, delivering exceptional accuracy and reliability. The distinctive "Snakeskin" texturing on the frontstrap and mainspring housing promises a firm grip. The thoughtful design of the recessed slide stop and flattened magazine release enhances ease of handling. In essence, the Kobra Carry is a first-rate choice for those in pursuit of a reliable, concealable sidearm.

3. Nighthawk Custom T3: Here's another high-grade 1911-style pistol crafted for concealed carry - the Nighthawk Custom T3. Equipped with a 3.8-inch barrel, it can be chambered in 9mm or .45 ACP. A lightweight aluminum frame, sharp trigger, and excellent accuracy underscore its appeal. With added night sights and a diverse range of custom options, it's nothing short of a gem.

4. Les Baer Ultimate Carry: As the name suggests, the Ultimate Carry is a prime example of a highly accurate and reliable 1911-style pistol designed with concealed carry in mind. Its 4.25-inch barrel chambered in .45 ACP, paired with a lightweight aluminum frame and a sharp trigger, offers stellar performance. To top it off, adjustable sights and a wide variety of custom options make it a tantalizing choice.

5. STI DVC Carry: Another superior model designed for concealed carry, the STI DVC Carry, is a luxurious addition to the 1911-style family. With its 3.9-inch barrel chambered in either 9mm or .45 ACP, a lightweight aluminum frame, and a responsive trigger, this model promises high performance. Adjustable sights and a plethora of custom options add to its appeal.

These top-tier 1911 models cater to discerning firearm enthusiasts who settle for nothing but the best in quality and performance. Though they carry a higher price tag than some models, their exceptional accuracy, unwavering reliability, and extensive customization options justify the investment.

The 1911 can be an exemplary choice for concealed carry when outfitted correctly. Its slim profile, precision trigger, and trusted reliability have earned it an esteemed place among gun owners. Consider factors like size, sights, and trigger while choosing a 1911 for concealed carry. With proper training and practice, the 1911 transforms into an incredibly potent tool for self-defense.